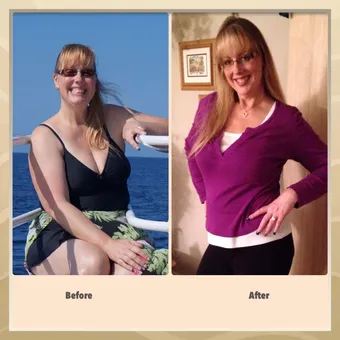 Six years ago, this May, I quit smoking. That's when my weight gain and love for unhealthy food began. Over the next 6 years I put on 70 pounds. I tried many different types of exercise and weight loss methods only to become discouraged and fail; never being able to reach my weight loss goal. The Ideal Protein Diet is by far the easiest weight loss program I have ever tried, and I am certain it will be the last one I will ever have to try! If you follow the program (no cheating!), there is no way you will not be successful in achieving your goal. You learn how to eat healthy and (in a relatively short period of time) actually begin to crave only healthy food. The food is really yummy and I never feel starved or deprived.

I started my weight loss journey on October 1, 2013. Since then I have lost a total of 55 pounds and 33 1/2 inches. The steady weekly weight loss helps keep me motivated! I even went on vacation for Christmas, followed protocol, and still lost 7 pounds in 2 weeks. This diet is so easy to do and follow, and I haven't even reached my goal weight yet. My journey continues on to lose a total of 70 pounds!.....

Thank you Ideal Protein for giving me my life back...my happiness back...my confidence back...and my figure back!

Nothing tastes better than how thin and healthy feels!
Carmen
---
Dr. Grano,

I wanted to write you to express how incredibly life altering my experience has been dealing with you, and the Ideal Protein program. This letter is to any potential client of yours as well as to your existing participants that are well on their way; just to let them know what it's like on the other side.
Through my younger years I was always athletic and in tip top shape; really without trying. Well, coming into my thirties, all of a sudden, I looked down one day only to realize that I had a gut!! This simply cannot be. How did this happen to me? Well, the years of dedication to my career and family, not my health, started to catch up to me. Apparently, you put on weight when you eat subs, fried food, mac and cheese, ice cream, and other of life's comfort foods; who would have guessed. I'm only 5'6" and I had always been around 150 lbs, but over years of trying to wish the weight away, I actually found myself at 191 lbs. All of a sudden 200 lbs was in sight and that scared me to action!! I realized that I had taken my natural build and metabolism for granted when I was younger.
My "working on myself" years began in my forties. I ordered some exercise equipment and put it where I could not ignore it, in my office. I went about fitness and weight loss in fits and had sporadic and only somewhat fulfilling success. I found my weight dropping only to stop at around 180 lbs. I worked out a lot more steady for about five years, and finally invested in a Bowflex about three years ago. I started working my entire body but, although I redistributed some fat to muscle, I could only get down to about 175 lbs. I felt good and I knew that I had vastly improved my muscle tone. Sadly though, I had to come to terms with, now being fifty years old, the muscle definition that I so took for granted when I was younger, was not to ever be again. Plus my ideal weight of 150 lbs was just never going to happen; after all, I've done everything I can; I eat well, I exercise, and I try to stay as active as I can. Sure, I perhaps could starve myself to it, but it was not worth it to me and I knew deep inside that I would never do that. I like wine, I like pizza, and do I ever like my sweets! So, I was just going to have to practice moderation and keep exercising just to keep from getting really big again. So I thought.
In comes Ideal Protein. I'm not nutritionally ignorant by any means. I know about protein and carbs; don't we all? I mean you can't live on this earth without hearing about the Zone diet, or the South Beach diet, or the Atkins nightmare. All modern diets seem to deal with the same basic formula, the balancing of protein and carbs. But none of them, in my opinion, deal with it properly like Ideal Protein does. First of all, with Ideal Protein, there was a plan to get to the target weight of your dreams. From the start of the plan, you felt that, if you just follow it, your goals would be met in a relatively short period of time. I also knew exactly why I was losing the weight. By cutting out the carbs in my diet, and increasing the protein, my body was forced into becoming an alternative fuel burning vehicle. I also learned that the reason was quite simple, the pancreas, after years of overuse and really abuse, was given a much needed break. The result, without the insulin and carbs pumping through my system, it had no other choice but to burn the fat. I'm talking burning the fat out of every crevice of your body too! Over just a few months, my system, seeking fuel it could run on, went in and carved me a new body. Of course all of the exercise that I had done is what gave me the muscle, but I had never in my wildest imagination thought that it had done such a fine job, because, little known to me, it was buried under fat. I went down and down and down to 145 lbs without ever blinking an eye. I kept working out with more drive now because the results became so much clearer. I'm 51, and I have a six pack.
Now, although losing the weight was exciting and extremely rewarding, what's the toughest thing of all? We all know that one, it's keeping it off.
So, let me back up just a bit. During phase-one of the plan, I need to mention that the other reason Ideal Protein works so well is that you are provided clean, wonderful foods. That's right, very tasty foods that range from oatmeal, cereal, pancakes, shakes, eggs, chili, and spaghetti; to pudding, chocolates, and other tasty stuff. All with very clean amounts of protein and carbs, meant for one purpose, to keep you losing weight and feeling good about it. You are also provided much needed vitamin supplements to be sure that you get all of the nutrition you need. There are two key areas that really helped me; number one, you can eat a healthy amount of lean protein of your choice for dinner along with salad or cooked veggies; and number two; you get to have a wonderful snack before bed!! I don't know about you, but the most difficult time of day to resist over eating is at night, after you have been subjected to commercial after commercial about wonderfully bad food. To resist, you need a shield and a weapon, this plan understands that and they have made several options for you. During all of those bad food commercials your shield is that you know that soon, you will have your snack and it will be delicious. The weapon is the food because best of all, it will contain about 18 grams of protein and only about 4 carbs! It's good and while you sleep, your body has what it needs to continue burning off fat and sculpting your body into what it can and should be.
From the beginning of the Ideal Protein plan, there was an exit strategy based on a lifestyle change, not a diet, which was founded in fundamentally proven principles that we can all understand. Now that I'm several months past hitting my target weight, I can assure you that you can have wine, beer, pizza, ice cream, and all of that other comfort food that you have loved all of your life, but now you have the most important thing, knowledge and the keys to the kingdom to know what to do to keep your weight off and still enjoy these things sans the guilt. When I finished the program, like in a dream, I went out for dinner. I was like a kid in a candy shop, I ordered an Apple Martini. Then I looked at the menu knowing that I could order anything I wanted. Having craved pizza, I ordered one. After this most satisfying meal, I had some cheesecake for desert. Then we went to the movies and I got some M&Ms and a slushy drink. Well, although I didn't feel too well after consuming this final intake of sugar, I knew that the following day, I would eat clean, using the Ideal Protein solution, like during phase one of the program to be sure my pancreas understood that this was just going to happen once or so per week, thus, not allowing it to get overly excited. Plus I knew that I only had to eat totally clean for a day after really indulging. Guess what? It works!! Halleluiah! It works! So, going forward, I knew that a few times a week I could enjoy some wine or a cocktail with my normal eating pattern, along with a day of utter sinful behavior (food wise) once or so times per week, always followed by a clean day to keep my pancreas in check and to maintain my weight at MY desired point. It's like having a control knob for your weight.
In conclusion, Ideal Protein provides a program founded in nutritional realities that educates its clients; you, as a client, also gain access to great food and guidance, but perhaps even most importantly, the program provides the ability to go on for the rest of your life knowing that you are in control of your weight, not your weight being in control of you.
From one extremely satisfied client,
Don Brown