What is Acupuncture?
Acupuncture is among the oldest healing practices in the world. It is part of traditional Chinese medicine(TCM), a whole medical system that originated in China. It is based on the concept that disease results from disruption in the flow of qi and imbalance in the forces of yin and yang. Practices such as herbs, meditation, massage, and acupuncture seek to aid healing by restoring the yin-yang balance and the flow of qi. Acupuncture is a family of procedures that originated in traditional Chinese medicine. Acupuncture is the stimulation of specific points on the body by a variety of techniques, including the insertion of thin metal needles though the skin. It is intended to remove blockages in the flow of qi and restore and maintain health. Acupuncture aims to restore and maintain health through the stimulation of specific points on the body. In the United States, where practitioners incorporate healing traditions from China, Japan, Korea, and other countries, acupuncture is considered part of complementary and alternative medicine. Complementary medicine is used together with conventional medicine, and alternative medicine is used in place of conventional medicine. (CAM).
Practiced in China and other Asian countries for thousands of years, acupuncture is one of the key components of traditional Chinese medicine. In TCM, the body is seen as a delicate balance of two opposing and inseparable forces: yin and yang. The concept of two opposing yet complementary forces described in traditional Chinese medicine. Yin represents cold, slow, or passive aspects of the person, while yang represents hot, excited, or active aspects. A major theory is that health is achieved through balancing yin and yang and disease is caused by an imbalance leading to a blockage in the flow of qi. According to TCM, health is achieved by maintaining the body in a "balanced state"; disease is due to an internal imbalance of yin and yang. This imbalance leads to blockage in the flow of qi traditional Chinese medicine, the vital energy or life force proposed to regulate a person's spiritual, emotional, mental, and physical health and to be influenced by the opposing forces of yin and yang, (vital energy) along pathways known as meridians. Qi can be unblocked, according to TCM, by using acupuncture at certain points on the body that connect with these meridians. Sources vary on the number of meridians, with numbers ranging from 14 to 20. One commonly cited source describes meridians as 14 main channels "connecting the body in a web-like interconnecting matrix" of at least 2,000 acupuncture points.
Acupuncture became better known in the United States in 1971, when New York Times reporter James Reston wrote about how doctors in China used needles to ease his pain after surgery. American practices of acupuncture incorporate medical traditions from China, Japan, Korea, and other countries.
What should I expect at an acupuncture session?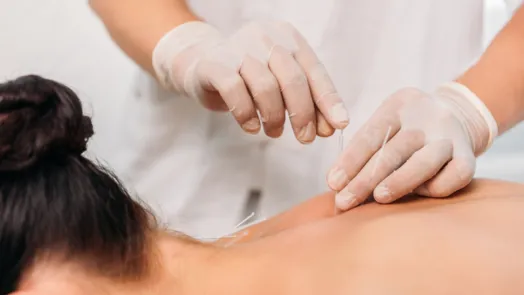 During your first office visit, the practitioner will ask you at length about your health condition, lifestyle, and behavior. The practitioner will want to obtain a complete picture of your treatment needs and behaviors that may contribute to your condition. Inform the acupuncturist about all treatments or medications you are taking and all medical conditions you have.
Acupuncture needles are metallic, solid, and hair-thin. People experience acupuncture differently, but most feel no or minimal pain as the needles are inserted. Some people feel energized by treatment, while others feel relaxed. The acupuncture points are specific locations where the Meridians come to the surface of the skin, and are easily accessible by "needling," Moxibustion, and Acupressure. The connections between them ensure that there is an even circulation of Qi, a balance between Yin and Yang. Energy constantly flows up and down these pathways. When pathways become obstructed, deficient, excessive, or just unbalanced, Yin and Yang are said to be thrown out of balance. This causes illness. Acupuncture is said to restore the balance. Improper needle placement, movement of the patient, or a defect in the needle can cause soreness and pain during treatment. This is why it is important to seek treatment from a qualified acupuncture practitioner.
Treatment may take place over a period of several weeks or more. Call our office for more information (973) 387-0003.
Take a look at some of the medical conditions that can be treated with Acupuncture
Acne, Addiction, Allergies, Alzheimer's, Angina, Anxiety, Arthritis, Asthma, Back Pain, Benign Prostatic Hyperplasia, Breast Cancer, Breast Lumps, Cancer Candidiasis, Carpal Tunnel Syndrome, High Cholesterol, Chronic Fatigue Syndrome, Constipation, Crohn's Disease, Depression, Dermatitis (Eczema), Diabetes, Diarrhea, Diverticular Disease, Ear Infection, Endometriosis, Eye Diseases, Female Sexual Dysfunction, Fibroids, Fibromyalgia, Flu (and Colds), GERD, Glaucoma, Gout, Gum Disease, Hay Fever, Headache, Heartburn, Hemorrhoids, Hypertension, Impotence, Indigestion, Infertility, Irritable Bowel Syndrome, Insomnia, Kidney Stones, Lung Cancer, Male Infertility, Memory Loss, Meniere's Disease, Menopause, Menstrual Cramps, Multiple Sclerosis, Muscle Strain and Sprain, Osteoporosis, Pancreatitis, Parkinson's, Peptic Ulcer, Premenstrual Syndrome, Preventative Medicine, Psoriasis, Rheumatoid Arthritis, SARS, Shingles, Sinusitis, Stress, Stroke, Tinnitus, Trigeminal Neuralgia, Ulcerative Colitis, Urinary Incontinence, Urinary Tract Infection, Vitiligo