What is Chiropractic?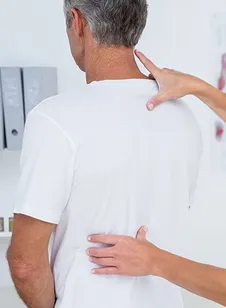 You have undoubtedly heard many different versions over the years on what Chiropractic actually is.
What many people don't know about chiropractic is that it is a natural, drug-free way to health and wellness and in turn maintaining a healthy, happy life. It is the largest drug-free health profession and the third largest health profession (besides medicine and dentistry). It is the #1 Complimentary and Alternative Medicine (CAM).
People may initially visit their Chiropractor for a variety of different reasons. You may hear of children who have conquered ear infections, adults who say chiropractic can help manage their arthritis or perhaps pregnant women struggling with back problems advocate Chiropractic. For others, it's sports injuries, back pain, neck pain, headaches/migraines, and sciatica. For some, it may be stress relief, athletic performance, posture problems and the list goes on and on. Actually, the primary goal of chiropractic is to maintain optimal FUNCTION of your nervous system and musculo-skeletal system.
The truth of the matter is that chiropractic in many regards is a lifestyle and a commitment to yourself and your body. Many that visit us at Advanced Medical & Wellness Centers come in to maintain their energy and vitality for life or even strengthen their immune system. Chiropractic simply put, is the largest natural healing method in the world and is practiced all over the globe.
By doing this and realigning the various vertebrate along the spine, chiropractic can ensure a happy, healthy lifestyle. Chiropractic in essence does not treat disease directly, but allows the body to heal itself through the natural processes developed in your body since the beginning of our kind on earth. You see, it is not the band-aid that heals your cut; it's the wisdom of your very own body!
5 Benefits of Chiropractic Adjustment with Dr. Axe
Jerry Rice Loves Chiropractic
Dr. Oz and the Benefits of Chiropractic
---
Frequently Asked Questions
What is Chiropractic?
Chiropractic is a branch of the healing arts based upon the understanding that good health depends, in part, upon a normally functioning nervous system (especially the spine, and the nerves extending from the spine to all parts of the body). "Chiropractic" comes from the Greek word chiropraktikos, meaning "effective treatment by hand." Chiropractic stresses the idea that the cause of many disease processes begins with the body's inability to adapt to its environment. It looks to address these diseases not by the use of drugs and chemicals, but by locating and adjusting a musculoskeletal area of the body which is functioning improperly.
What Conditions Benefit from Chiropractic Care?
Although chiropractic is used most frequently to relieve low back pain, studies have found it to be effective for a variety of conditions, such as migraine headaches, neck and shoulder pain, carpal tunnel syndrome, fibromyalgia, and infantile colic.
Does Chiropractic Hurt?
Under normal circumstances, adjustments don't hurt. The patient may experience a minor amount of discomfort during the adjustment which lasts only seconds.
Is Chiropractic Safe?
Chiropractic adjustments or manipulations are extremely safe. There are many studies proving the safety of chiropractic. In fact, chiropractic malpractice is the lowest of all healthcare.
What Kind of Education and Training Do Doctors of Chiropractic Have?
Chiropractors receive an education that emphasizes neuromuscular diagnosis and treatment. Preparation for the practice of chiropractic is concentrated on three areas of learning; basic training in the biological and health sciences (anatomy, physiology, histology, biochemistry, clinical and radiological diagnosis); specialized training in the chiropractic discipline (theoretical studies, practice, diagnosis and applications); and extensive clinical training.
What Can I Expect on My First Visit?

The first thing Dr. Grano will do is ask you about the health complaints about which you are chiefly concerned. He will also ask about your family history, past medical history, other care you may have had (chiropractic, osteopathic, medical, etc.), your job, and other questions designed to help determine the nature of your pain and the best way to go about treating the problem.
A physical examination will be performed in accordance with Dr. Grano's clinical judgement, which may include x-rays, laboratory analysis and other diagnostic procedures. In addition, a careful spinal examination and analysis will be performed to detect any structural abnormalities which may be affecting or causing your condition. All of these elements are important components of your total health profile, and vital in evaluating your problem.
How Can I Get Myself and My Entire Family Checked?

Call our office and set up a new patient appointment to get started! Click HERE
---
Chiropractic care can offer the missing pieces to achieve your body's wellness potential.
Chiropractic care is effective for a wide variety of conditions. The following is a partial list of some of the most common conditions chiropractic care can help with. If you do not see your specific condition listed, we encourage you to give us a call so we can personally address your particular concerns.
| | |
| --- | --- |
| Back Pain-Lower | Back Pain-Upper/Neck |
| Sciatica | Slipped Disc |
| Stress | Pinched Nerve |
| Wellness | Headaches |
| Fibromyalgia | Pregnancy |
| Carpal Tunnel | Colic |
| Ear Infections | Scoliosis |
| Whiplash | Frozen Shoulder and Shoulder Pain |
| Osteoarthritis | Osteoporosis |
| Plantar Fasciitis | Tennis Elbow |
---
The Benefits of Chiropractic and Massage
Testimonial from one of our patients, who incorporates chiropractic and massage into his routine for optimal health.
Long hours sitting in a car plus the weight I have to carry on my belt have sent me to a chiropractor for pain relief for years. Since combining massage with chiropractic , I've shifted more to a regular maintenance routine with both. I stay pain free a lot longer,and if I do have pain it's from 'twisting something" instead of the same old chronic problems.
Doug, Police Officer
What sets us apart from the rest? It is the use of both chiropractic adjustments and massage therapy to treat injuries. Chiropractic care and massage go hand in hand. The vast majority of problems and injuries that we see in our office have two main components. First, there is a structural abnormality in the skeletal system which has most likely been hiding there without pain for a very long time. Only recently it has progressed to a point where it is now causing symptoms such as pain, stiffness, numbness, etc. This structural problem needs to be addressed for pain to go away and more importantly, for the abnormality to eventually return to normal. This is accomplished through the 'Chiropractic Adjustment'. The second component of most injuries is problems with the muscular system. Muscles are pliable structures that connect one bone to another and are responsible for all the movements of the body. A muscle is often involved in an injury due to overstretching, tightening(spasms), microtears and abrasions, inflammation, etc. These muscles need to be relaxed and stretched to reduce the pain patterns that have developed over years of overloading and stress.
To address only the structural aspect of an injury with chiropractic adjustments alone, or to only address the muscular aspect of an injury through massage, would be selling yourself short in treating most injuries to their fullest. The muscles of the body connect to the bones of the spine, and like dominoes, one affects the other. We understand the importance of treating both issues when present.